Carl Holgate's ongoing problems with his local VA, the Malcom Randall VA Medical Center in Gainesville, Florida, prompted him to found the Facebook Group Veterans And The VA in February of this year. "I have been made aware of numerous Veterans issues in the past few months," states Holgate. He went on to add, "I never imagined the deportation of our Veterans would have such an effect on me."
Gainesville, Fl., USA –– Thursday, April 21, 2016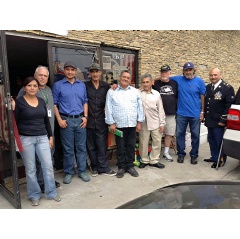 Deported Veterans Support House, Tijuana, Mexico
"A man who is good enough to shed his blood for his country is good enough to be given a square deal afterwards. More than that no man is entitled, and less than that no man shall have." President Teddy Roosevelt
Carl Holgate is outraged over the deportation of United States Veterans. According to Holgate, "The United States Government has been deporting US Veterans since 1996 that served in wars such as Vietnam, Persian Gulf, Kosovo, Iraq, and Afghanistan."
Holgate is a self-proclaimed Constitutional Conservative whose political views are a 180 degree opposite of many he supports.  When questioned why he was quick to answer, "I lived among Hispanics in Phoenix and Tucson, Arizona.  I understand their pain of being separated from their loved ones."  He continued, "Besides, they have been wronged by the very Government many fought to protect!"
"On Friday, July 8th, 2016 deported US Veterans, and their families enter the United States seeking Humanitarian and Medical Parole," states Holgate.  He went on to add, "They are also calling for President Obama to end the policy of deporting Veterans who have served in the United States Military."
The movement to right this wrong, according to Holgate, is gaining momentum.  He states "Rep. Ruben Gallego (D-AZ) introduced legislation that would assist Deported Veterans to reunite with their families in the United States. The bill would also prevent the removal of Veterans in the future."
Holgate challenges the current presidential political candidates to put their money where their mouth is.  Stop talking about what they would do to help Veterans and start doing something.  "I'd love to see how Donald Trump would handle this one," he laughed.
Holgate is attempting to gain the support and endorsement of Gary Sinise.  "He is a great Patriot," stated Holgate, who went on to add, "Lt. Dan's support would go a long way to getting the job done!"
Holgate started a Petition supporting Deported Veterans that gained close to One Hundred Signatures in the first week.  "My goal is One Hundred Thousand by July 4th" proclaimed Holgate.  "It is possible if enough concerned Americans help it go viral," he reasons.
"Our Veterans were willing to fight for you; now it is your turn to fight for them" declared Holgate. "Be a part of history," He urged then added, "Please sign the Petition.