This Kickstarter.com design book project will feature 20 new concept vehicles, like cars, airplanes, spaceships, and many more. It will also have design instructions and links to 3D printed models. For artists, designers, car and sci-fi enthusiast.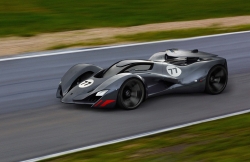 Harbor City, CA, March 22, 2016 —- Are you a fan of art, design, science fiction, or automobiles? Would you like to get an insiders look at designs that might be in our future? Then this is an opportunity you can't miss out on. This quest started as a design experiment on Facebook about 3 years ago, to see what people like. A set of sketches were posted, and the sketch with the most likes became the final design direction. There was a lot of positive feedback and so the best of these designs are being combined to make this book. A collection of 20 concept vehicles that push the boundaries of form and function are featured in Concept Design Quest. When you support this project you can be one of the first to get a beautifully designed collectors book that takes a look into the future, and the satisfaction of knowing that you are supporting an artist in the maker movement.
You'll discover 20 new and different vehicles in photo-like clarity. Vehicles like drones, flying cars, trains, aircraft, spaceships, motorcycles, and other futuristic vehicle concepts. Also included are easy to understand tips and illustrations for creating your own dynamic products, from the ground up. Plus you will be one of the first to have access to the 3D prints of your favorite vehicle designs using QR codes inside the book (as they become available).
This Kickstarter project just hit it's funding goal on Sunday (3-20-16) but you still have a chance to be part of the original backers, and be one of the first to get the book.
www.kickstarter.com/projects/2036157766/concept-design-quest-a-book-about-20-futuristic-ve
Shawn Moghadam studied Transportation Design (B.S.) at Art Center College of Design in Pasadena. Shawn's concept work in vehicle design includes some of the most familiar companies in the industry, from GM to BMW to Walt Disney Imagineering. Combining his traditional design skills with advanced futurism concepts and an entertainment design philosophy, Shawn also teaches vehicle design in the Los Angeles area and works as a Digital Designer for a major car company in Los Angeles. As a child he was fascinated with cars and spaceships, after winning a Motor Trend design contest in 2000, he decided to pursue a design career.